Right after the post referred to the suitcases of Summer2015, the theme post about my oncoming vacations could not be missing… so, I'm announcing that my holidays are officially started! I'm not going to tell they are deserved, even if they really are, I'll just show you the last pictures I took in town, 40°, my hair blowing up and my makeup melting. It's been quite difficult to save something from the shooting.
But, the real protagonists of this post are my little "sausages", which is not really cool as a name, so let us call them as a proper fashion addicted would: "gladiator sandals".
To be true, a proper "image consultant" would tell you that they do not fit every leg, (nor mine, actually); the hard truth is, they really fit only those girls who have very thin legs (to be clear, as thin as my arm, or even less). Thus, given that we like them and they are one of this season's trends, I suggest everyone to wear them only if you feel comfortable, and to prefer those sandals with the fastener on the back, so as to regulate the front shoelaces and avoid the "sausage" effect.
Where to buy them? Well, if you're in the mood, the coolest ones are designed by Valentino and Chloé. If, like me, you prefer a reasonable version of them, a perfect copy was realized by Zara, in leather and black (but unfortunately they are sold out since a while), my gladiator sandals are by Topshop.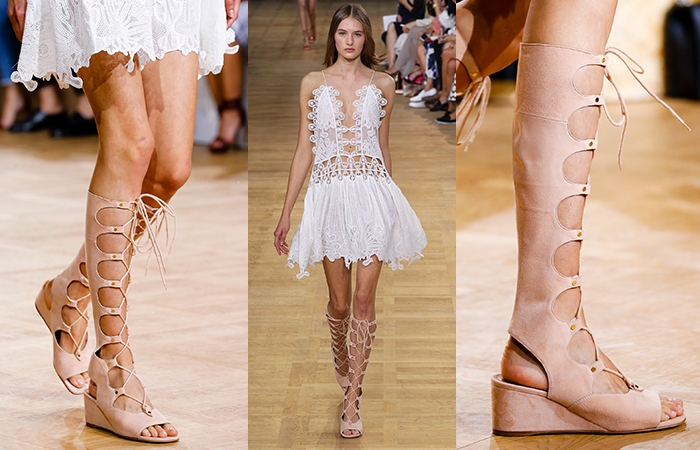 Aldo's version in gold and black is quite interesting, and still available now. These are by Asos, in leather and black.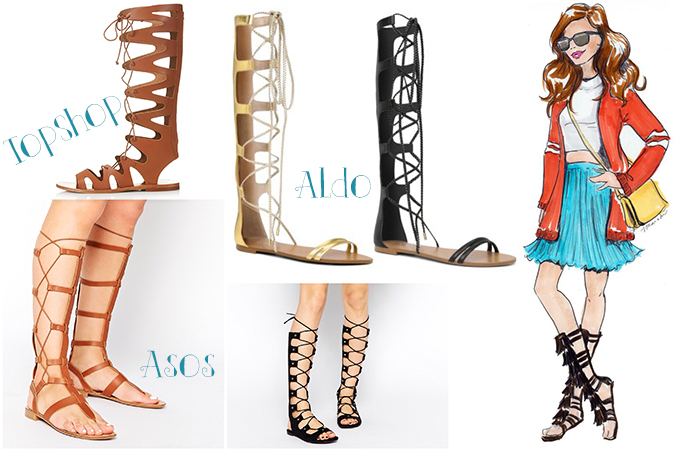 How to wear gladiator sandals? With simple mini dresses in light cotton or broderie anglaise and a waist belt, otherwise, combined with a pair of shorts and a shirt, or a denim skirt and a crop top, like I did, or also, together with a weightless and fluttering maxi dress with thin straps.
I will spend my deserved vacations on the coasts of Croatia, where I'll take some pictures for you, hoping my hair will not be blowing up.
I was wearing:
– Topshop gladiator sandals
– Zara denim skirt
– Zara Crop top in broderie anglaise
– I Santi vintage maxi satchel