The look I'm showing you today is a Spring classic, because white and blue stripes together with red or, here, yellow, immediately bring you back to the sea, with anchors, caps and knots, thus, you could say, we made no effort in choosing the location and, you're perfectly right.
Today, stripes are an absolute evergreen: starting from the '50s, we saw them every year relaunched in new fashions. Their history crossed curious paths in the field of fashion and more.
From the Medieval Age on, striped clothes were used by the lower classes: jesters, hangmen, prisoners, prostitutes, Jewish people, Breton fishermen and sailors. The origins of the "Chemise Breton", or sailor shirt, indeed, date back to the sailors from Britannia, a region in northern France. It was characterized by horizontal stripes, black and white or blue and white, in order to hide the stains of a heavy work. In 1958, the French Navy adopted the Breton shirt as uniform: it had exactly 21 stripes, one for each of Napoleon's victories.
The transition of the striped shirt from uniform to fashion item started with Coco Chanel, who fell in love with it on the French coasts and legitimized it as ladies fashion clothing.
Since then, it reached Zara fast fashion, going through an endless series of actresses, artists, intellectuals and musicians, till it became a class, simplicity and elegance icon, unchanged from season to season.
Jean-Paul Sartre, Pablo Picasso, Brigitte Bardot, Audrey Hepburn, Andy Warhol, James Dean and Kurt Cobain are some of the famous names who wore it during the years.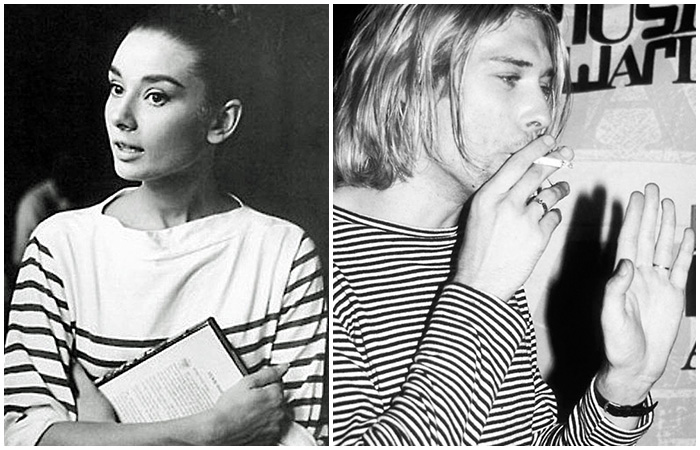 How to wear it today? As you like… It is a really eclectic item: with high heels and a blazer, with skinny jeans and flats, in a maxi version on your shorts, with a skirt, flats and a small shoulder bag, as in French style, or with palazzo trousers, pearls and red lipstick, as Coco suggested. Combinations are infinite, but regardless of how you are going to wear it, remember to do that with charm, because you are wearing a small piece of history, enclosed in a simple striped shirt.
I was wearing:
– Zara striped top and scarf
– Blazer H&M
– 7 For All Mankind white jeans
– Jimmy Choo Sandals
– MyChoice bag