This article is not about what you can or can't do on Formentera – is it really necessary?
Neither is it a tourist guide about Formentera's most beautiful beaches – they all are. We are not here to talk about how Formentera is the last hippie paradise because you will find more girls in the streets of San Francisco than on Via Monte Napoleone.
This article is written so that it inspires you to travel if you ever need any motivation to do so in mid-July. Perhaps you will want to move there with your camper van transformed in a vintage clothing shop. Oh, we all have our fantasies.
To begin with, you can't visit Formentera without renting a scooter that will take you to all its beaches. The experience will leave you will knots in your hair, and that smell of slightly burned gas reminding you of the old times you spend making out on a scooter wondering whether that smell would stay on your hair afterwards.
It is impossible to get lost on Formentera since there's only one road about 20 kilometres long on which you can get anywhere.
Formentera is full of naked people. That for me is not entirely a plus, but it might be to some people.
The sunsets on Formentera are breathtaking and often accompanied by the music of Andrea Bocelli and applause. Then, after one drink or two or three, depends on how many sunsets you have seen at the Piratabus which, after seeing almost all of the sunsets there are, remains by favourite bar.
The white walls and pavements of Formentera with blinds the colour of "Italian blue" are the perfect backdrop to your summer outfits.
It's better you come prepared. For in the shops of San Francisco, you will buy everything: handmade beachwear, beach ropes with every possible ornament and even bags made of straw that are typical of the island.
When or should I say if you return home there will always be that flower crown, small seashells or other wooden trinkets smelling of sea and lavender that will remind you of San Francisco every time.
After buying almost everything there is, you will eat a salad with delicious mango at Fonda Platé to repent. Then, you will reserve dinner at Ca na Pepa to get back on track.
On Formentera you do not need high heels because you can wear beachwear with a long transparent dress, and you will look perfect until dawn. If, however, you fit in the category of  a middle-aged woman with high heels, short skirt and a low cut dress for the plane ride back home, you never know – you might find a spontaneous party along the way!
You do not need high heels on Formentera because you will want to walk barefoot all the time; either on the sandy beaches or on the path leading to the Cap de Barbaria lighthouse. The lighthouse is in the middle of nowhere, standing on the scorching sun that reminds you how close to Africa you really are. The thoughts of home are so far away that you might never remember them again for only this moments remains: the infinite blue and your bare feet tracing the shadow of the lighthouse.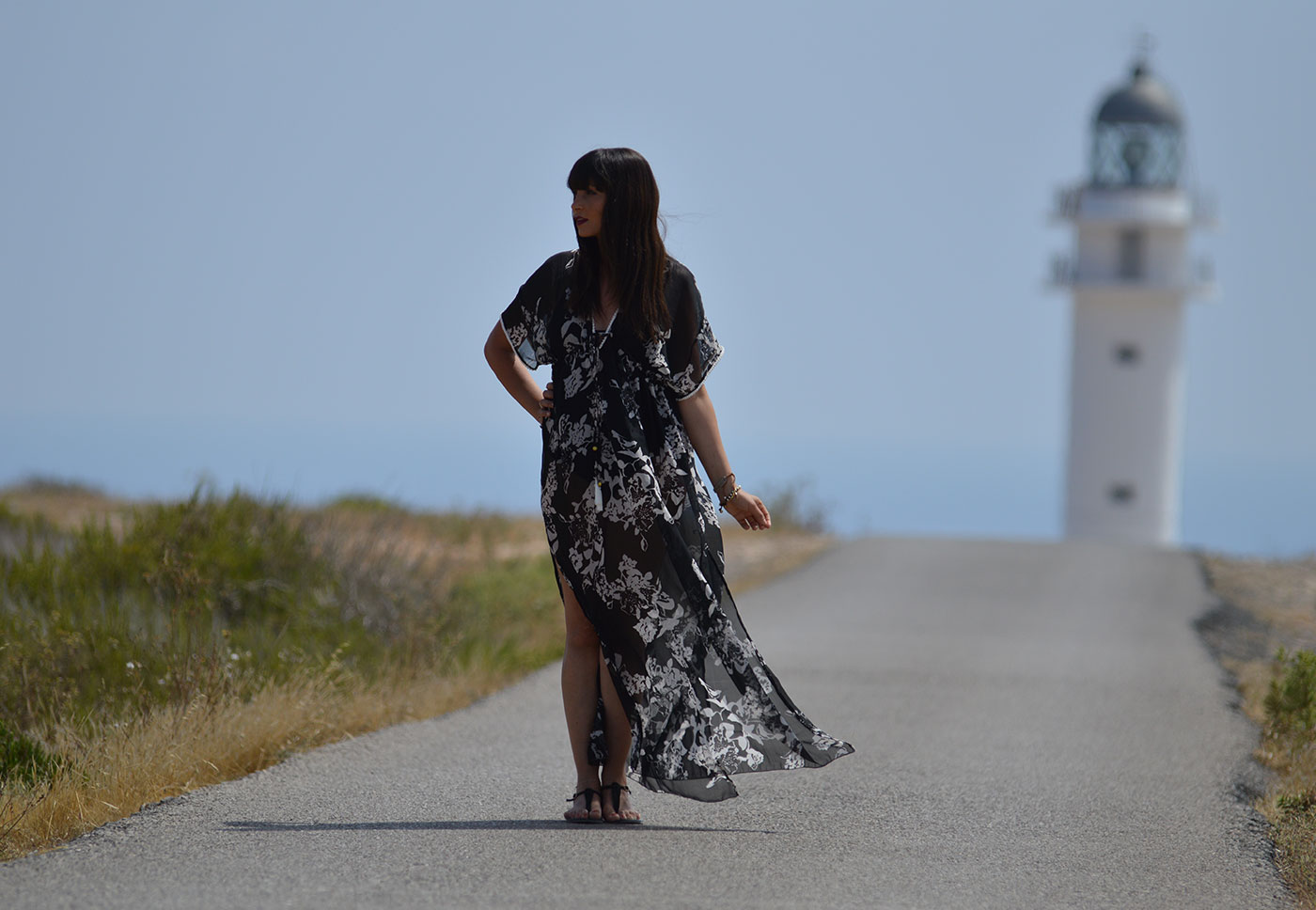 I was wearing:
– Aqui y Ahora dress
– Black vintage swimsuit