In such a beautiful sunny day, while Spring is coming and we start with our lists of what to do, to buy, or which travel or weekend to plan…
My personal to-do list shows at its first place the famous and infamous, so hated change of season!
No wardrobe, shelves or shoe rack is going to be enough, and we'll have to reuse all of the space occupied by our coats till now.
The good part is that you always discover forgotten items, sometimes NEVER worn.
The AW17 runways left me with an inspiration that reminds me Gucci… I'm longing for wide trousers, flower silky blouses and big sunglasses from the 70s.
It's time to leave aside the boho Coachella Festival style and feel more 70s and intimist, wearing selected clothes, refined fabrics and suede boots that will be ruined just at the thought of going out…
After 4 boxes I'm already tired and regretting that Husky I just put in the basement, which makes me look like a fisherman at the river but, if worn with a ripped jeans makes me feel like I'm shopping in a New York H24 grocery shop. Thus, I leaf through a magazine and look at the latest runways online (always connected).
We already talked about Vetements, cutting edge brands, and romanticism for those brands that are expressing their potential by staying close to their roots.
And then, we have the BIG BOSSES… brands which really dictate the rules of fashion, moving every single thing and setting trends by following wider inspirations and shaking everything from a collection to another. Here is a focus on their runways.
PRADA
Prada transforms the old men collections, enriching them with meaning.
With the 12 months stamps from the French revolution calendar, created by the artist Christophe Chemin, it completely rewrites its idea of femininity with a wondering feeling within.
Miuccia's woman is so a woman traveling the world and every single item represents a mix of dreams, thoughts and secrets.
Stratification at its best, because it is not just made of clothes, but feelings.
Military coats, Hawaiian style, corsets, flared skirts, hunting jackets, velvet sheath dresses, fur cloaks.
We immediately fall in love, as magpies, with those treasure chests hanging from necks and belts, as trunks from hunts, travels or wars from the past.
VALENTINO
In contrast with the actual trend of "see now buy now", Valentino's designers choose to remember everybody the meaning of Haute Couture: uniqueness, design and handmade completely rule.
Ballet world in its widest meaning is the inspiration, its art and passion are brought on the catwalk, that becomes an old stage marked with the signs of hours and hours of the dancers' dedication and exercise.
Clearly, music plays a crucial role: there is a piano and it is played by Vanessa Wagner, and following its notes, the models dance, rigorous as real ballerinas. The clothes are trapped in tulle, lightweight fabrics, organzas, crystals and chiffon create a magic atmosphere.
MARNI
Maybe the runway I most recognized myself in.
Marni's sculpture effect, as we all were statues, is such a fascinating idea. Stirrup leggings, gorgeous colors palette, carved pullovers, heels as marble blocks, weights mixes, paillettes and asymmetric cloaks, trousers rounding the figure, geometrics touches, soft and wavy hair and pointed-toe décolletés.
Accessories are always present in Fall Winter collection by Marni, squared and bucket bags, wood, precious stones, fur, paillettes and jewel sunglasses.
Coats are rigorous, colors are classical and winter-themed: withe, black, grey, green and bordeaux.
GUCCI
Alessandro Michele seduces the catwalks again, expectations where really high and he perfectly mines the 70s, sport, the 80s and graffitis, creating his own style.
Gucci's woman travel from a painting to New York, through Paris and Fellini's Rome.
They recall renaissance, but also as well, with furs and customized spray writings.
Pearls, furs, brocades and paillettes, male tailleurs, capes, veil hats, glitters and leather gloves.
Gucci has no fear to dare, and it dares with so many different styles, that put together, create an elegant and refined woman, not scared by colors or the jewel logo.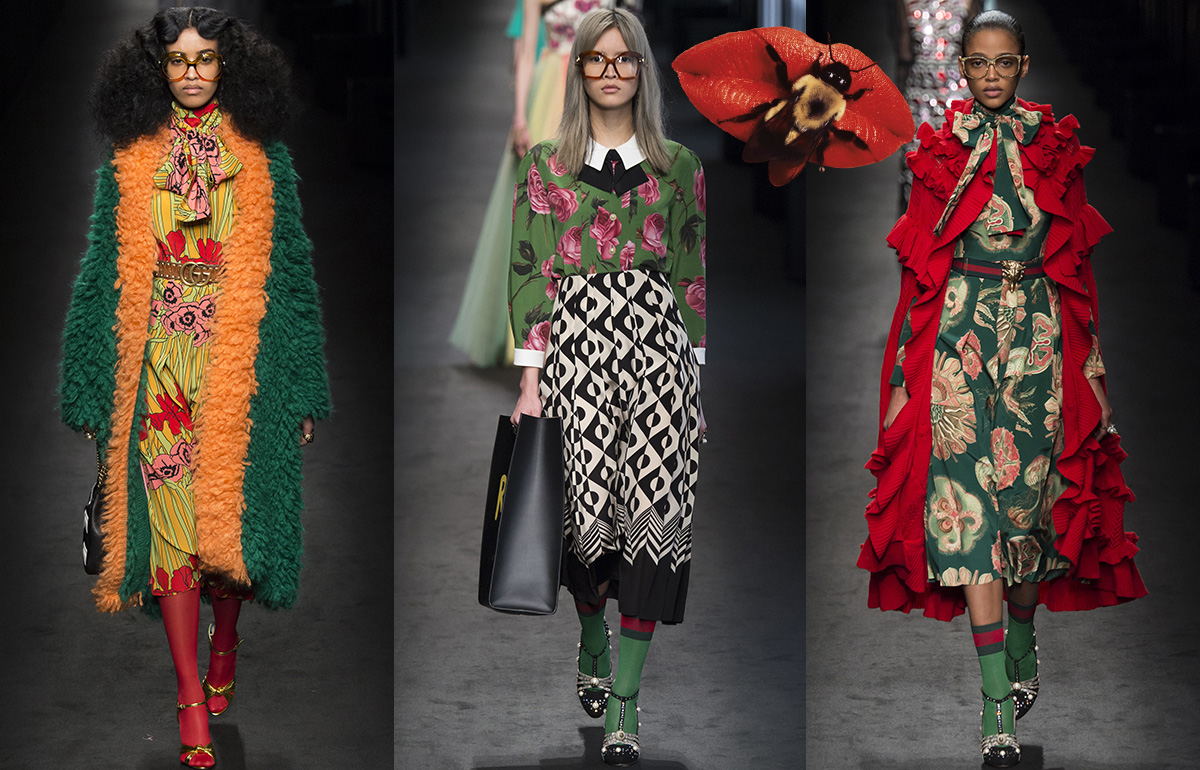 LOUIS VUITTON
After cyberpunk, Fall Winter by Louis Vuitton will be all focused on the contrast between past and future.
Scenography by Justin Morin, it recreates an underwater city reproducing the floors of Paris Pantheon.
Placed in a submarine Atlantis, seen from the future through a telescope… here dynamism is a must.
Light blue is one of the principal colors, red, withe and black.
Louis Vuitton rediscovers as well the opulence of fur, silk, leather and wool.
Slim fit trousers matched with empire coats, extreme symmetries and rouches.
Beauty case bags, fur hats and gloves, for a woman traveling through past and future.
While deciding and looking at my wardrobe waiting for news, as Carrie Bradshaw… not to be rude with any of the BIG BOSSES, well, I think I'm going to have an item for each of them!