As every year, it is time for swimsuit fitting, a very hard moment for all of us, even the fittest ones, who get to the decisive fitting and regularly feel imperfect, always spotting a particular or a detail to be modified. Unfortunately, the 50s are over for everybody, the swimsuit/dress does no longer exist and, after a few hours wearing your white T-shirt to avoid sunburning and your shorts to run on the sea shore… the time comes…
Our tip? To be spontaneous and free as if you were home, for a night out, or everywhere you feel good with yourselves.
Yes, exactly!
Let's stop trying desperately to fit a 38 size, or a trikini that makes us look like anything but "a nice show", and just relax on the shore in a swimsuit that fits our shapes. So, yes to balconette bras for the curvy ones, and to one piece swimsuits for the thinner ones.
This is what the runways show us: those looks we love so much and those we may have to wait one more year before we can afford them!
Biagiotti, romantic, coordinated with the colors of a sunset sky, lilac and mustard, geometric embroideries, completely crocheted.
Acne, one of the most used words in Summer 2015, as in 2014, is definitely "cutout", where skin is only visible through the details. Instead of a "see all" bikini, Acne presents a one piece swimsuit in the shades of rust, characterized by oval cutouts leaving skin parts at the sunlight (of course, it is ideal for nights out or happy hours, or you'll get sunspots everywhere!).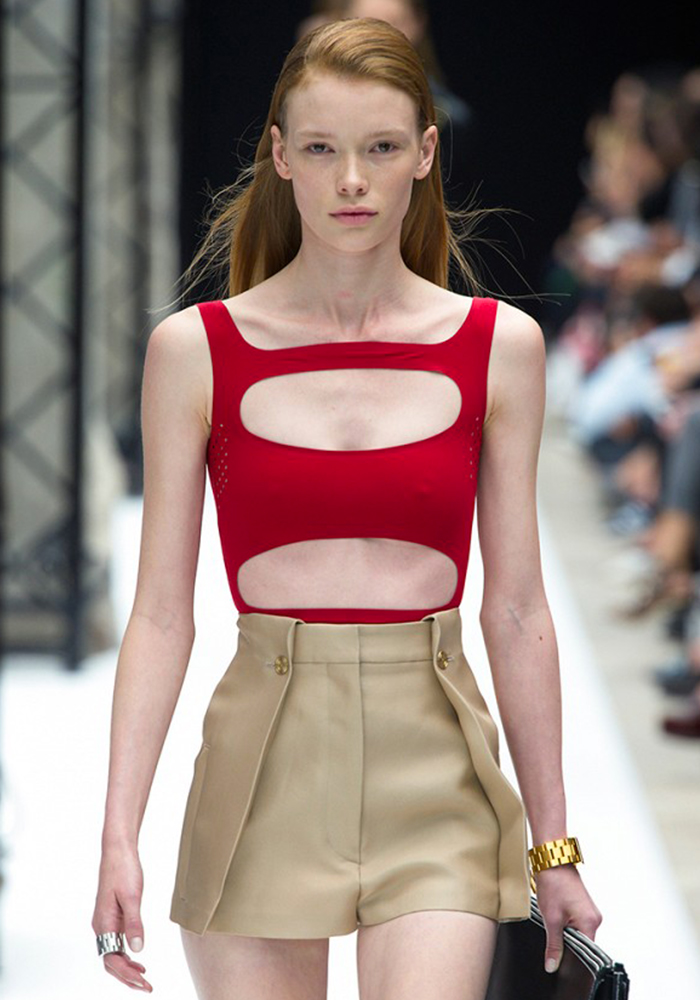 Stella Jean, she is still our 2014's discovery, among the most interesting since her first runways, always on a tribal rhythm mixed with swing, showing women dressed in typical African fabrics in contrast with Parisian fashion's classical silhouettes. We had the chance to get to know her even better in Milan, at the Sephora event for the fifth edition of the Vogue Fashion Night Out, where she created an ad hoc collection of limited edition clutches in wax fabric.
Here you have one of her swimsuits, with a frill band, extremely colored and strong. (To be matched when going to the beach with one of her pareos/skirts and a foulard in your hair).
The Miranda Top presents a "Marylin style" bikini, pointed triangle and high waistline panties, very low around the thigh, hard to wear but beautiful…if you're lucky enough to have the right body, you could spend all day sipping your Martini at the poolside… immersed in the romanticism of such a unique bikini.
Marta Ferri, we saw floral prints everywhere in the last collections, but a special attention goes to Marta Ferri proposal, elegant, a petals cascade, hyper colored. We loved it!
We are Handsome, under a total pink sunset, only striated by cerulean and its shades, a flamingos promenade appears (pink too, of course), we think of this swimsuit together with very casual ripped shorts, worn with sneakers, because you can never tell if during a scooter ride on the coat you'll discover a little bay where to have a restoring bath.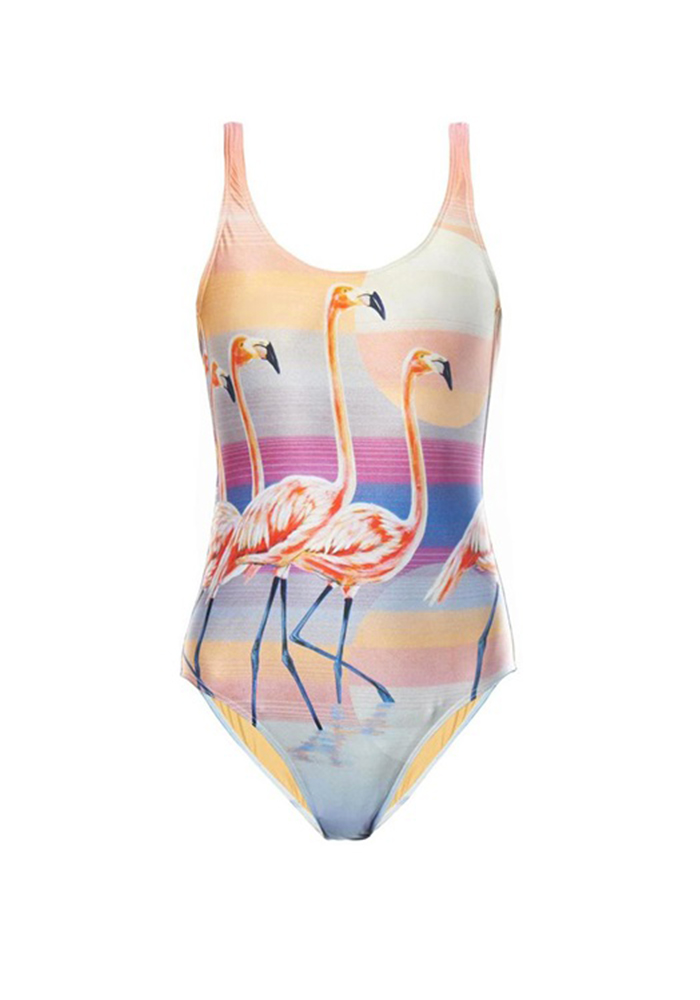 Moschino, always stunning. If in its runways from Barbie to the Toones we admired lots and lots of accessories, how not to accessorize a minimal bikini with prints???
Well, girls, there's something to suit everybody's fancy!